VINYGUARD ROOF
Why is VINYGUARD ROOF (VGR) such a popular selection now?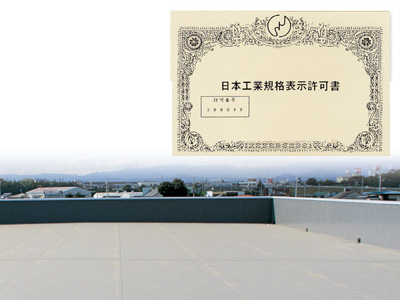 "Why is VINYGUARD ROOF (VGR) such a popular selection now?" One of the reasons is its construction method. Waterproofing methods are broadly divided into asphalt waterproofing, sheet waterproofing, coating film waterproofing, and other methods. While the right methods are used in the right places by taking advantage of specific characteristics, the recent trend show a remarkable increase in the sheet waterproofing method, which is said to have altered the flow of waterproofing in each field. This may be due to its advantages in obtaining a uniform, homogeneous waterproof layer, labor-saving, and pollution-free result match current needs. Especially in refurbishment work for which there has been sharply-rising demand in recent years, the advantages of sheet waterproofing are highly regarded, and above all, the demand for PVC resin-based roofing sheets "VINYGUARD ROOF" is rapidly expanding.
///Points of VINYGUARD ROOF///
1. Extremely low water absorbency and outstanding water resistance.
Fits to the base and prevents penetration of water!
2. Excellent in insulation, chemical resistance, fire resistance, wear resistance, weather resistance, etc., with outstanding performance.
3. Lightweight walkable materials, usable on rooftops.Reduces the weight of buildings, and earthquake-proof!
4. Open construction method (maintenance-free, simple construction, and shortened work periods).
5. Low cost and a wide selection of colors (almost nearly limitless custom color matching).
⑥ Pollution-free and environmentally friendly.

Details
Mechanical fixing system VINYGUARD ROOF GER, GSR

Excellent not only in waterproofing performance but also insulation, chemical resistance, fire resistance, wear resistance, and weather resistance, and environmentally friendly!

VINYGUARD ROOF manufactured under stringent quality controls at our JIS factory has earned widespread support from many sites since its release. VINYGUARD ROOF fully delivers waterproofing and moistureproofing properties as a reliable waterproof material. In addition to our performance record to date, the "mechanical fixing system" is part of our new line up. The VD construction method uses disks. A walkable waterproof layer can also be utilized, allowing for wide use on rooftops.

– Best suited for refurbishment work
– Eliminates blistering – Various colors
– Two construction methods adopted for rises – Outstanding durability

A glass fiber cloth is laminated in the intermediate layer to enhance dimensional stability and physical strength.

– Standard colors

Gray, green

– Weight

GSR: 23kg/roll, GER: 29kg/roll

– Construction method

Mechanical fixing system, heat insulation system
Adhesion system VINYGUARD ROOF SRD, ERD

Excellent not only in waterproofing performance but also insulation, chemical resistance, fire resistance, wear resistance, and weather resistance, and environmentally friendly!

VINYGUARD ROOF manufactured under stringent quality controls at our JIS factory has earned widespread support from many sites since its release. VINYGUARD ROOF fully delivers waterproofing and moistureproofing properties as a reliable waterproof material. In addition to our performance record to date, the "mechanical fixing system" is part of our new line up. The VD construction method uses disks. A walkable waterproof layer can also be utilized, allowing for wide use on rooftops.

– Best suited for refurbishment work
– Eliminates blistering – Various colors
– Two construction methods adopted for rises – Outstanding durability

Polyethylene-based heat insulating material used (primer coated on both sides)

– Standard colors

Gray, green

– Weight

29kg/roll

– Construction method

Adhesion system, heat-insulated adhesion system
Disk installation procedure/example of disk layout

Adhesion system procedure/detailed drawing

Heat-insulated adhesion system procedure/detailed drawing

Insulation system [VD construction method] procedure/detailed drawing

Heat insulation system [VZ construction method] procedure/detailed drawing