HAITENGA
Excellent in durability and beautifully workable in a seamless manner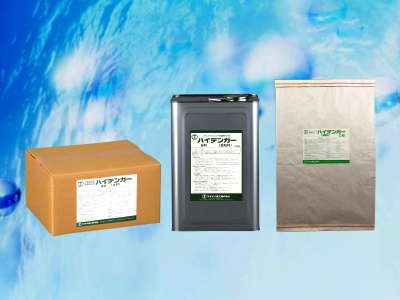 This product can be used on not only for irregularities but also other complicated shapes in a seamless manner without impairing its beautiful appearance. It can be widely used on floors, verandas, etc., and is excellent in durability. Simple touchups are also an appeal. As it is water-based, this paint is odorless and environmentally friendly.
///Points of HAITENGA///
1. Excellent in weather resistance and durability, maintaining stable performance for long periods of time without degradation even under harsh natural conditions.
2. Workable with a wool roller, trowel, plasterer's brush, etc., requiring no special tools.
3. Coating film with both high elasticity and toughness exhibits excellent surface crack follow-up performance.
4. Pollution-free, exerting no adverse effects on the human body and environment because no organic solvents are contained.
5. Workable even on wet surfaces, and best suited to waterproofing of hard-to-dry underground, outer walls and water tanks and pits, etc.
Details
HAITENGA A

Use as a waterproofing material by mixing it with HAITENGA B.

– Volume

7kg × 2 bags/box

– Major component

Hydraulic special inorganic aggregate

– External appearance

Ash-gray fine powder

HAITENGA B

Use as a primer by diluting it 10-fold with water.
Use as a waterproofing material by mixing it with HAITENGA A.
Use as a protective material by mixing a 5-fold dilution and HAITENGA C.

– Volume

18kg/can

– Major component

Special modified ethylene-vinyl acetate copolymer resin emulsion (EVA)

– External appearance

Milky white liquid

– Solid content

5±2%

PH

5±1

– Viscosity

600±200mPa・s

– Specific gravity

1.1

– Charge

Nonionic

HAITENGA C (made to order)

Use as a protective material by mixing a 5-fold dilution and HAITENGA B.

– Volume

20kg/bag

– Major component

Hydraulic special inorganic aggregate

– External appearance

Ash-gray fine powder

HAITENGA cloth (made to order)

Use as a HAITENGA waterproof layer reinforcing material.

– Volume

1m × 100m

– Major component

Polyester

– External appearance

Unwoven cloth

Construction procedure

● Completely remove adherents of laitance and oils and fats with a disc sander or the like, work on the base concrete to the extent of a steel trowel finish.
● Chip floating part(s), if serious, to expose the sturdy base, and touch up with resin mortar. If floating is small, drill a hole, and inject an epoxy-based grout.
● V-cut cracked part(s), fill urethane sealing, and then reinforce with HAITENGA cloth.
● For joint parts, make sure to put a backer, fill urethane sealing, and reinforce with HAITENGA cloth.

● While gradually adding HAITENGA B to water, agitate until a homogeneous state is brought about with a high-speed agitator.
● Following the compounding ratio, prepare for one-time workload, and apply with a wool roller, brush, or the like.

● While gradually adding HAITENGA A to HAITENGA B, and agitate for approximately 3 minutes until a homogeneous state is brought about with a high-speed agitator.
● Following the compounding ratio, prepare for one-time workload, and apply with a wool roller, trowel, or the like.
● Chamfer or round out external and internal corners, and reinforce with HAITENGA cloth.
<>
Before the undercoating dries up, lay HAITENGA cloth by pressing it down with a roller. When laying HAITENGA cloth, be careful not to allow it to float up or get wrinkled.

● Agitate materials by the same procedure as undercoating.
● After checking the dry condition of the undercoating, perform intermediate coating by the same procedure.

● Agitate materials by the same procedure as undercoating.
● After checking the dry condition of the undercoating, perform overcoating by the same procedure.

● For protecting the waterproof layers of underground outer walls and water tanks, use HAITENGA C.

Construction drawing

Recipe

Coating film performance, standard application area