Preformed expansion joint fillers
OFF-CON 99
Trustworthy quality, full-flat body, and improved workability!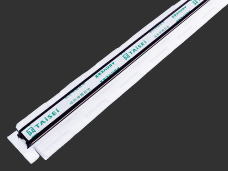 The step of the joint body is removed to make a flat shape, so that the cap can easily be inserted and working efficiency is improved. In the case of external heat insulation, the groove portion is widened and the groove face is notched, so that the joint filler can be fixed to the heat-insulating material by smoothly inserting the OFF-CON pins into the groove in the seat portion of the joint filler.
Material

Adoption of PP (polypropylene) for following concrete movements and having both flexibility and strength.

Use

Places where holding mortar is hard to carry in, such as factories and rooftops
///Points of OFF-CON 99///
1. Simple construction just by placing, requiring no mortar, and shortens work periods considerably.
2. Light weight and excellent weather resistance, waterproofing performance, and chemical resistance.
3. Easy cutting with a cutter or metal saw.
4. Smooth construction by applying butyl tape directly to base surface.
5. Hook type joint section allows for perfect fitting of straight-line and corner joints without slippage.
6. Easy level adjustment, with which liner beauty can be secured without bending.
Details
Standard construction method (work procedure)